Parish church dedicated to the cult of the Holy Cross of Christ. Ecclesial complex home to the Monastery of S.Stefano of probable Norman origin (approximately 11th-12th century), formerly a dependency of the Benedictine Abbey of the S.S.Trinità of Mileto and from 1454 of the Abbey of Sant'Anastasia in Castelbuono.
From the Sanctuary you dominate a large strip of the Tyrrhenian coast and the woods of the Nebrodi Park; From the square in front both the Rocca di Cefalù and Capo d'Orlando are visible, furthermore you can directly see the towns of Caronia, S. Fratello, Mistretta, Reitano, Motta d'Affermo, Tusa and Pollina, as well as the town of S. Stefano di Camastra and much of its territory. The current complex, whose reorganization dates back to the 19th century, consists of a single-nave church with an adjoining rectory and rooms which originally must have been for convent use. An interesting collection of votive icons is preserved in the sacristy, referring to a period between the second half of the 19th century and the present day.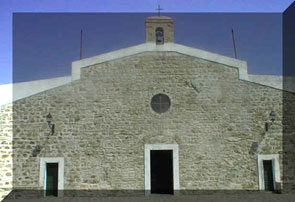 The Sanctuary can be used every day, and in particular from mid-August to mid-September, the period preceding the religious holiday of the second Sunday of September, during which the owner of the parish of S. Stefano moves to the Sanctuary.
Located on Mount S.Croce, 874 meters above sea level, it can be reached using the S.Stefano-Serro Capizzi provincial road with a detour at the Portella Calcari crossroads, 12 km from S.Stefano.